World
Italy recovers 60 archaeological remains stolen in the US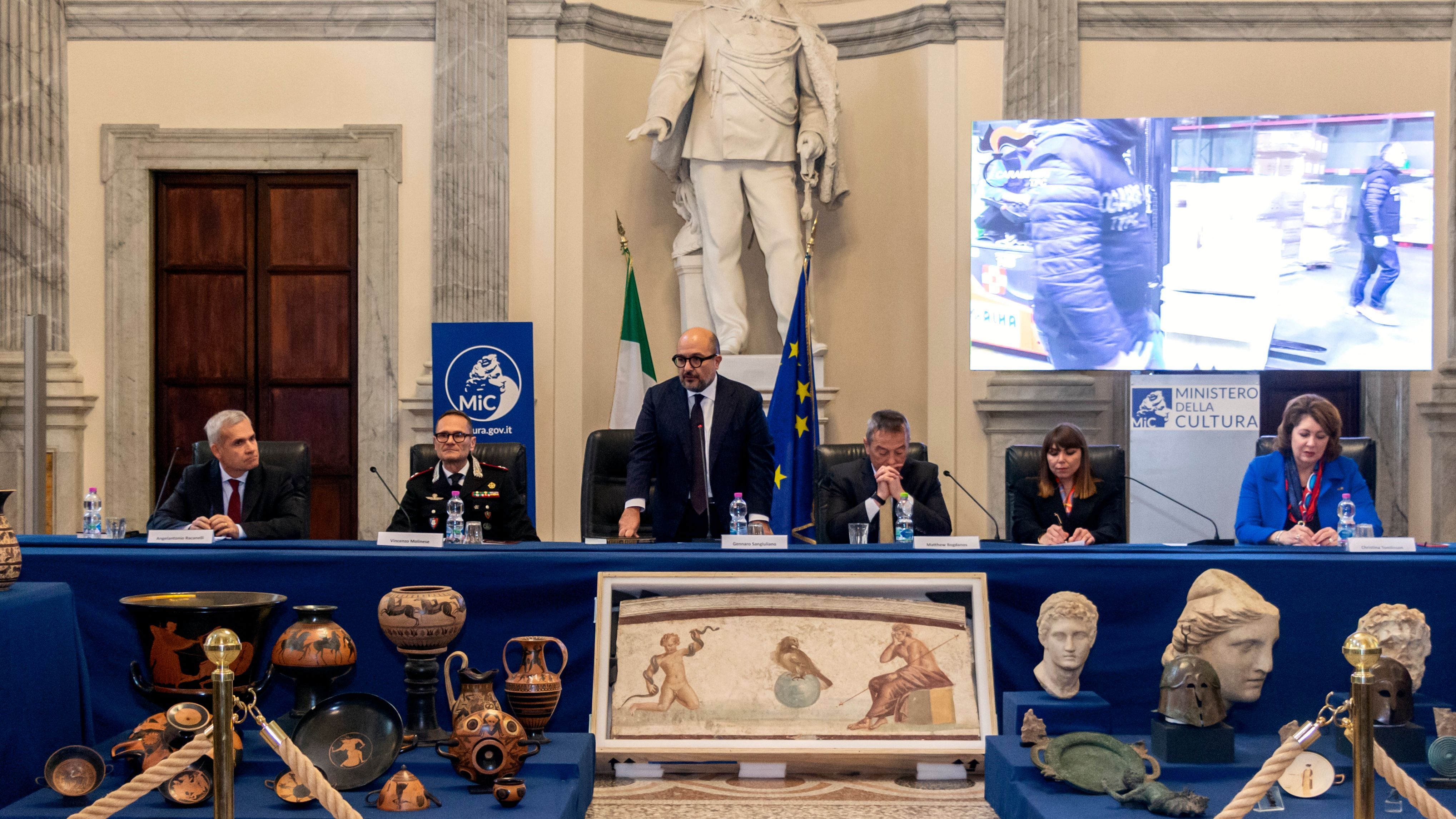 The collection features finds of incredible cultural value




Estimated value is $20 million.




Estimated value is $20 million.
Offered for sale among unscrupulous art dealers, they remained illegally locked up for years in museums, galleries and private collections. In total there are 60 archaeological remains that have managed to return to their place of origin, Italy, thanks to the work carried out by the Carabinieri of the Protection of Cultural Heritage and the New York County District Attorney's Office. The works of great value dating from the 7th century BC to the 1st century AD, which are close to 20 million dollars, They had fallen into the hands of international art traffickers who had made a profit from the illegal market by selling them to all kinds of buyers. Italian Culture Minister Gennaro Sangiuliano commented on the good news at the official presentation of the recovered goods: "It is a great success against illicit trafficking," he said.
Behind the recovered works is a Pompeian fresco from clandestine excavations in the Vesuvio area from the 1st century AD Also various marble heads, plaques, a Greek ceramic cyclical, bronze kits and vases and amphorae from Ancient Greece. In short, an infinity of archaeological works of great value for the great Italian cultural treasure. The recovered goods will be temporarily exhibited at the Museum of Recovered Art in Rome. The next step will be the identification of the different museums to which the works will be assigned permanently, to make them accessible to the public. According to Minister Sangiuliano himself, they are thinking of creating an ad hoc exhibition to explain the path they have traveled up to today.
The recovered goods had been looted from Italian archaeological centers such as Pompeii itself, one of Italy's cultural jewels. Then they had been put up for sale by some brokers international art and they had ended up in museums, private homes or galleries for decades without knowing their illicit origin. Precisely some had even ended up in private collections accompanying other highly valuable goods. This is the case of one of the greatest art collectors in the world, Michael Steinhardt, the billionaire who had accumulated a pile of looted relics, who has been imposed, for the first time, a lifetime ban on buying antiques. The collaboration of the Ministry of Culture has been important for the technical-scientific assessment that has finally brought these works back home.
The minister himself also talks about "other ongoing recovery activities" about which he cannot speak now, but which guarantees that there is still a lot of work to be done in this matter and that the enormous Italian heritage is also in unsuspected places besieged by the international illegal market. "Bringing so many Italian women home remains one of his priorities in any case. Much remains to be done on this front. Legal certainty must be a guarantee of civility and respect for national and international laws, for treaties that prevent the illegal export of works of art, "he said when presenting the works.. In short, news of this scope can be repeated at any time, the historical legacy of Italian art seems, at times, to be infinite.
In recent years, the work of the Carabinieri of the Protection of Cultural Heritage (TPC) in contrast against its illicit trafficking have recovered 75,000 archaeological and paleontological assets and 1,227 works seized with a value of more than 85 million euros. Operations that included various investigations and 971 people denounced. The work has intensified in recent years, also favored by international collaboration, with the aim of recovering works from inhospitable places on the planet where they become, instead of a museum object, an object of crime. For example, last July New York returned to Italy 142 works of art that had also fallen into the hands of traffickers with a value of up to 14 million euros.