World
Handtmann shows flexible technology for modern food processing at Internorga 2023
Handtmann will be showing solutions for today's flexible food processing for the out-of-home market at the Internorga from March 10th to 14th in Hall B6 Stand B6.136.
Handtmann will use the VF 608 plus vacuum filler in the new advanced edition on the Internorga show. In conjunction with a wide range of attachments for shaping, dosing or co-extruding, it is suitable for universal food processing, for products such as soups, salads, convenience products, pasta, delicatessen and, in particular, vegan and vegetarian foods. Soft, pasty, chunky, solid or cold product masses are powerfully processed, portioned to the gram and optionally dosed or shaped: into burgers, meatballs, dumplings and balls, cevapcici, delicatessen salads, dips and sauces, spreads, ready meals and more.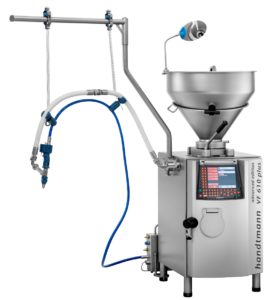 Excellent weight accuracy in the portioning range from 5 to 200,000 grams and first-class product quality are guaranteed by the gentle Handtmann vane cell conveyor. The powerful main servo drive ensures reliable production with high, effective portioning performance of up to 400 portions per minute. The control with color display offers 300 product storage spaces and simple and intuitive operation. Frequent product changes for small batches are quick and easy.
In the new advanced edition With the VF 608 plus, the very best suitability for everyday use and fatigue-free, ergonomic work are guaranteed by Handtmann. The CE-compliant design in accordance with the latest EU standards for safety and hygiene make it a reliable and flexible partner in modern food production.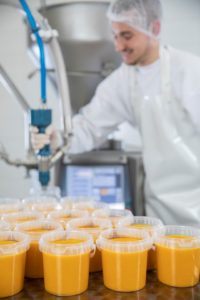 The Handtmann DV 85-1 dosing valve offers the direct dosing of product masses from a wide range of food areas, including vegetarian and vegan. Product examples are dips and sauces, soups, delicatessen salads, desserts, toppings, batter, shortcrust pastry, spreads and other products. In connection with the VF 608 plus advanced edition Dosing into various types of containers, such as cups, bowls, glasses, thermoformed packaging or as a topping is flexibly possible with the vacuum filler. The possibility of hot dosing at up to 90 degrees Celsius offers considerable advantages, especially in the catering and food service sector.
The dosing valve is suitable for pasty and liquid product masses, as well as products with chunky inserts. A high level of flexibility is provided when dosing and dividing different product masses and product shapes through the selection of two outlet variants: 22 mm outlet diameter with ejector piston and 8 mm outlet diameter with stamp. Perforated and star nozzles are available in diameters of 4, 5, 7, 9, 11 and 13 mm. The ejection speed, which can be easily regulated directly on the dosing valve, should always ensure an excellent and attractive product presentation. At the same time, it is the only manually operated dosing valve on the market that always guarantees CE-compliant, safe working. Optimum hygiene and product safety is also ensured by the design of the dosing valve in stainless steel and detectable plastic.
You can find more information about Handtmann products at www.handtmann.de/food.