News
Colegio del Salvador: A complaint of sexual abuse reaches the Jesuit school in Buenos Aires where the Pope taught
Gonzalo Elizondo and Pablo Vio are two 32-year-old Argentine friends. They studied together at Savior College, a century-old Jesuit educational institution in Buenos Aires, where Jorge Mario Bergoglio, now Pope Francis, taught. After finishing high school in this institution, Elizondo and Vio maintained their friendship. However, it took almost two decades for them to realize that they shared a painful memory: they were both abused by their guardian, brother César Fretes, when they were 11 years old. Breaking the silence and beginning to search for answers, they discovered that the victims numbered in the dozens. So far, they have accounted for 42.
Fretes died in 2015 without having been reported to the Justice. The school authorities acknowledge the existence of the abuses, but are opposed to offering a public apology and financially compensating the victims. Nor have they sanctioned those responsible for the school at that time, as the former students demand. "There were many responsible adults who did not act as they had to act. They neglected us, they abandoned us, they found out that there was an abuser and what they did was cover him up and transfer him," says Vio in an interview with EL PAÍS together with Elizondo.
Both denounce that Fretes abused them in 2002, when he was their sixth grade tutor, but they did not tell anyone and did their best to forget it. A year later, the school transferred the Jesuit more than 1,000 kilometers away without giving any explanation, but a rumor began to spread among the students: he had abused a student. That murmur made Elizondo resignify what happened in the spiritual retreat last year, when he woke up in the middle of the night and felt that Fretes had his hand inside his pants. "He told me that he found me sleepwalking and took me back to the room, but I was never a sleepwalker," Elizondo recalls in an interview with EL PAÍS. "Hearing the rumors, I reinterpreted that it was not an accident, but that he was touching me," he says. However, he thought that with the transfer the school had already acted and remained silent.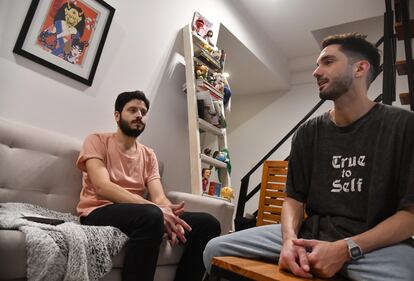 Vio took longer to realize that she had been abused because as a teenager she didn't have the tools to do so. At school they did not teach sex education, as it is now mandatory, and many did not know how to act or what to think when Fretes led the tutoring talks towards sexual issues. "I was preparing you, each time I advanced more," says Vio. "One day in his office he asked me to drop my pants. He touched my penis, ran my skin and asked me to look at my teammates in the locker room, compare and then tell him, "he recalls. "At that time I even thought I was lucky to have that person by my side and to teach me, they never explained to me that this was wrong," he denounces.
Elizondo first approached the school authorities in search of answers in 2019. Three years later, he is accompanied by Vio and dozens of other victims. But they collide with the lack of collaboration from the religious institution, which also refuses to speak to the media, alleging that it has already apologized to the educational community and has taken measures to prevent new cases.
"We are ashamed"
"In the first place, we reiterate our request for forgiveness to those who suffered at the College what they should not have suffered. It embarrasses us. We are deeply sorry. That is why we publicly ask for forgiveness", says the letter sent at the beginning of the month to the educational community and signed by the current rector, Jorge Black, and who held that position in 2003, Rafael Velasco. "The authorities of the College and of the Company of those years acted believing that they were doing their best. At that time, it was believed that it was enough to remove the accused and thus preserve the students from further harm," they added, referring to the decision to transfer him to Mendoza.
Although in theory contact with minors was prohibited, Fretes returned to school on a couple of occasions and also participated in some activities with students between 2003 and 2007, when he was expelled from the Society of Jesus, allegedly as a result of an internal investigation into the abuse cases.
"They don't let us see the expulsion certificate. We know that the investigation is false because they didn't talk to anyone, they didn't ask anyone," says Vio. The victims assure that before the complaint received against Fretes in 2003 —that he ended up with his transfer to Mendoza—, the school authorities had received two others.
The first dates back to 1998, just a year after the brother – who was never ordained a priest – joined the faculty. "A family went to ask the rector, Luis de Maussion, that his son had suffered a situation of abuse by Fretes. However, De Maussion dismissed his testimony and decided to keep the abuser in his position, "they highlight in a chronology produced collectively from the different testimonies. The second dates back to 2001, when a sixth-grade student told Rector Velasco about an attempted abuse by Fretes. "The rector not only dismissed his testimony, but also took it upon himself to expose him to all of his colleagues as a liar," they say.
Silence of the Pope
Jorge Mario Bergoglio, today Francisco, is a Jesuit by training and taught at the Colegio del Salvador in the mid-1960s. Listening to the Pope's speeches against pedophilia within the Church and knowing how close he was to the school, Elizondo thought that he could intercede. In 2020 he took courage and wrote a letter to the Vatican. He never received an answer. "He is protecting them. Acknowledging the abuses would be letting go of their hands," says Vio.
After several years of struggle without results, the former students are highly critical of the actions of the authorities of the Jesuit institution where they studied and of the entire Catholic hierarchy. "The objective of the Church is that we get tired, that we run out of energy and leave it and so they can continue to cover it up, as if nothing had happened. If the Pope came out to speak, no one could continue to be distracted and would give us a recharge of energy, it will not happen, "Vio anticipates.
If you know of any case of sexual abuse that has not seen the light of day, write to us with your complaint at [email protected]. If it is a case in Latin America, write to us at [email protected].
Subscribe here to the EL PAÍS América newsletter and receive all the key information on current affairs in the region.