News
Juanes, Ana Torroja and Fito Páez: musical tours return to Venezuela | International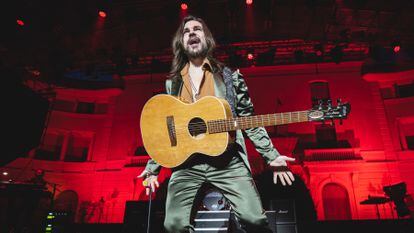 Diosdado Cabello, first vice president of the United Socialist Party of Venezuela (PSUV) and considered number two of Chavismo, harshly charged days ago against Colombian singer-songwriter Juan Esteban Aristizábal, Juanes, once he announced his decision to visit the country to present a recital with his songs. "Excited to return to Caracas, Venezuela, one of the first countries that supported my career. Counting down the days to see them", the musician wrote on his social networks as part of his Origen tour. Juanes had not traveled to the neighboring country since 2008. Even in the midst of this climate, Venezuela is gradually hosting international music tours again in a context of incipient economic openness. The Spanish Ana Torroja performed in the capital last June, while the Argentine Fito Páez and the Italian Eros Ramazzotti will do so soon.
Cabello called Juanes "supreme immoral" and harshly criticized him for his participation in the Venezuela Live Aid, a concert that was held in Cúcuta at the beginning of 2019, in the midst of the emergence of Juan Guaidó, in which several Venezuelan and foreign artists concentrated. near the border line between Colombia and Venezuela to support the entry of humanitarian aid, denounce Maduro and try to force a transition in the country. In that event, organized by Richard Branson, artists such as Juan Luis Guerra, Miguel Bosé, Maluma, or Carlos Vives also participated. "Juanes, I am going to tell you something: the president here is still Nicolás Maduro. The same one that, according to you, wouldn't let you in. You are a supreme immoral. You are a great immoral! You come for the money (…), after saying that you were not coming to Venezuela, after you sang at a concert when Venezuela was going to be invaded. They are not going to be able to, not with a thousand concerts of those, nor with a thousand Juanes", released Cabello.
In 2008, Juanes himself had organized another massive event on the border line to overcome another crisis between Colombia and Venezuela: the Paz en la Frontera concert, in which he shared the stage with Carlos Vives, Juan Luis Guerra, Juan Fernando Velasco, Ricardo Montaner, Miguel Bosé and Alejandro Sanz. A human tide of some 100,000 people gathered under the Simón Bolívar binational bridge to send a message of brotherhood and reduce political tension between the governments of Hugo Chávez and Álvaro Uribe.
The annoyance expressed by Cabello with Juanes, who is planning a recital in November, runs parallel to what has been an unusual opening before the visit of international artists, including some who stopped recognizing Maduro or have criticized him harshly. In addition to a sign of economic recovery, it is an attempt to break the isolation and offer a good image. After having disappeared completely for at least six years, at which time the political, economic and institutional crisis in Venezuela worsened, in 2022 the first international recitals have timidly returned to Caracas, particularly by Latin American and Spanish artists, in many times with the consent and cooperation of the Maduro government.
In addition to Juanes, Torroja, Páez or Ramazzotti, Wisin y Yandel, Mon Laferte, Olga Tañón, Kany García, Natalia Jiménez and Óscar de León have also traveled or will travel to Venezuela, the vast majority of them after a long time without doing so. Well into the 21st century, even under Chavez, Caracas was a regular stop for European and American bands on their South American tours.
These musicians are brought by companies such as Aguacate Producciones, SolidShow or InverShow, which maintain a fluid relationship with the Chavista authorities and have been able to work without problems in this context. Artists like José Luis Rodríguez, The Puma, Also an attendant at the Cúcuta concert and a well-known critic of Maduro, he performed a few months ago with great success in a completely refurbished Teresa Carreño Theater, to everyone's surprise.
Join EL PAÍS to follow all the news and read without limits.
subscribe
The Teresa Carreño and the Poliedro de Caracas – the most important space for massive events in the city -, traditional stages of the entertainment world, were progressively co-opted by the Chavismo staff in recent years, becoming regular places for political concentrations, meetings of officials and television speeches, first by Chávez and later by Maduro.
Chavismo continues to routinely organize its activities in these places, but has decided to "open the field" to the entertainment world without major announcements. The icing on the cake, which has produced much surprise in public opinion, is the restoration of the Teresa Carreño Opera Company, promoted by the State, and the return of Miss Venezuela, from the Cisneros Organization, one of the most popular shows of the country, to the domains of the Polyhedron of Caracas.
Follow all the international information in Facebook Y Twitteror in our weekly newsletter.