News
Borodianka, the psychological trail of a massacre | International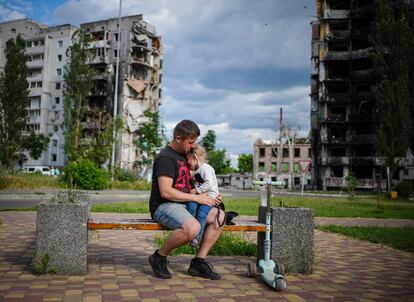 The surreal horror of war has things that are hard to digest. Tetiana Sologub, 65, a native of Borodianka, northwest of kyiv, recalls that when the Russian tanks arrived at the end of February and the artillery began to destroy the walls of the houses, even so, she, who is a nurse, went to the hospital. "My colleagues called me and asked me why she wasn't working," she says. Not everyone had the same information; communications failed. When she introduces herself, she Sologub seems tough, though very willing to chat. Thinking back to the days when Russia massacred her town, her hands begin to shake, she can't hold them. She finally went to the hospital. "There was a wounded Russian soldier with glass embedded in his arm," she continues, "we treated him and in the afternoon they came to take him away." The army that was laying waste to Borodianka called for help to heal their wounded. How does she remember it? She changes her face. She shrugs her shoulders because she can't find an answer; it was a hospital after all. The siege of the city, one of the symbols of Russian barbarism around kyiv, along with Bucha and Irpin, caused the death of around 200 people. Around 20 neighbors, according to figures published by the local pressare still missing.
"Is it any use to you to tell this now?
"No, you see my hands are shaking.
But the woman remembers what happened in detail: Russian soldiers went to the hospitals to be assisted, and those same soldiers did not allow the wounded neighbors to be cared for amid masses of destruction. After the tanks came the aviation, on March 1. The fighters bombed Borodianka, one of the few targets attacked by the Russian air force – only Moscow knows why. "I remember a mother with two children in the rubble asking for help," says this nurse, "but we couldn't do anything, they wouldn't let us get close." This woman – who lost her husband 15 years ago, but has two children, one stationed on the Donetsk front, and four grandchildren – spent hours and hours in the hospital until a neighbor called her on the phone and told her that his house was on fire. "I went and tried to go in," she says after taking a deep breath, "but I was very scared and went down to the shelter because they were shooting." She couldn't catch anything.
Perhaps this is one of the great traumas of those who managed to survive the offensive launched by Moscow. Losing the home with everything inside. Not a photo or anything, Sologub doesn't keep anything. The clothes he wears, he says between sobs, are borrowed, secondhand. And with all that he lived and tells, this is when he explodes and lets the tears fall. "I always live on the verge of tears," he continues, "but I don't like being left with clothes." This nurse, who continues to practice, says that where she lives now, some housing modules built thanks to the collaboration of the Polish Government, there is psychological help, but that she calms down in her "way". "What I do," she resolves herself, "is cry."
Join EL PAÍS to follow all the news and read without limits.
subscribe
In a khaki shirt and camouflage pants, Konstantin Moroz, deputy mayor of Borodianka, walks among these modules, arranged in 5,000 square meters. His story, until he reached the Town Hall of this town, which before the war had about 13,000 inhabitants, is original. He comes from far away, from Izmail, in the southwest of the country, near the Romanian border. He was in the military, but a health problem forced him to retire. When the war started, he began to work as a volunteer in the kyiv region and from there, due to his performance and experience, he came to Borodianka, where he was offered to be deputy mayor. He manages everything that he has to do with the displaced from their homes – he calculates that due to the requests for accommodation there are about 4,000. At the moment, 258 people live in the modules with what they have. These days they are installing a battery of washing machines in one of the rooms.
At first, says the deputy mayor, when they arrived at these prefabricated houses, people did not communicate. "Now people are starting to talk," says Moroz, "they have relaxed, they are organizing among themselves, they are getting to know each other." Indeed, as Tetiana Sologub recounted, the 77 families who live here have psychological assistance and a doctor 24 hours a day. But the horror wears everyone down. "When I was a volunteer", remembers this municipal position, "I came home, I felt exhausted, and it was because of the desolation". "I want these people," he continues, "to be the symbol of the resurrection."
Not everyone has such motivating words. Igor Pavlishenco, who has just finished eating, is 39 years old. He is a strong man; he shows it by shaking hands, no doubt about it. It is not easy to hear critics of Volodymyr Zelensky's government in Ukraine these days. "I am very sorry for the people we have lost due to government errors," he says, "they did nothing to evacuate, they did not give us the opportunity to escape." Pavlishenco worked in maintenance tasks in the municipality. He has an 11-year-old son who hangs around with a ball as if he wants to dare Dad to stop telling these stories and play the game. When Russian tanks rolled in, this man got his family to safety and helped move neighbors into the woods to flee. "They called me," he explains, "and I took them out with my car."
His house, in block number 359, was also hit by Russian fire. As soon as they left the area, this man returned to his family and managed to recover, according to his calculations, 30% of his belongings from the house. The block will be torn down and they will try to live for rent. Now he works in construction, but the trauma of what he experienced remains. He acknowledges that his son suffered "stress" because he "saw dead people, shots fired at his house, finally destroyed." The boy nods when asked if he remembers that. Pavlishenco clarifies, in case his direct tone confuses, that what he feels is not anger but rage.
"Did you give yourself a chance to cry?"
-Mourn? For whom? You have to take it inside, I don't want it to come out. I have a motivation (looks at his son) and I can't cry.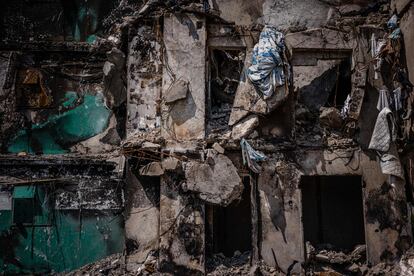 The expert report made by the Borodianka City Council estimates that 2,001 houses were affected by Russian artillery and aviation between the end of February and March, including 11 blocks of houses. Some buildings may be restored, while others will be demolished. At the moment, the reforms are timid at first glance in the central street of the town. The footprint of the destruction is still as visible as it was five months ago, in the light of day for all the neighbors. As it is in the small town of Zagaltsi, about ten kilometers northwest of Borodianka. Russian fighters also bombed there. The image of horror here is located on Nezalezhnosti (Independence) Street. Virtually no house remains intact, all built on one floor and with gabled roofs, next to the green that covers the land.
A group of volunteer artists restores and decorates what a few years ago was an outpatient clinic so that it can serve, with a more friendly face, the Consistory. Among them is Irina Pasternak, 54. She is from Borodianka and she was lucky that her house was not damaged, although she did suffer personal losses. Olga Vilnichenco is one of those people who have not yet appeared. She was a friend of Pasternak. "She had three children and I remember that when she came to yoga class she fell asleep leaning against the wall from exhaustion," she recalls with a certain smile. Vilnichenco's husband was a militiaman and was one of the first victims of the offensive. They don't know what could have happened to her and her three children, but where they lived there is only a hole.
They talk among these volunteers that older people do not want to go to a psychologist, something not very popular in a country like Ukraine; that the young people, perhaps, would go. They remember that there was torture and rape, but the neighbors, who at first told something, now do not. It is a town, you have to be careful what they say.
According to data from the mayor of Zagaltsi, Serguii Nedashkivskii, 49, of the 868 houses that existed before the war, 126 have been razed to the ground, 210 have slight damage and 80, 30% destroyed. Among all these are, for example, the school and the nursery. In Zagaltsi they also opted to build modules, this time with the help of the Polish Catholic Church, each one near the destroyed house. Winter is coming and in many of the houses on Nezalezhnosti Street, the neighbors are struggling to repair, above all, roofs and windows. Others have nowhere to start. "Psychologically, almost everyone is ill", points out the mayor of the town, "especially those who have lost their homes. You can help them now, but if in two days they see again that they don't have their home, they fall again. They feel abandoned."
Follow all the international information in Facebook Y Twitteror in our weekly newsletter.
50% off
Subscribe to continue reading
read without limits