World
Adif and Renfe open high speed in Burgos and seek to stop the chaos in Extremadura | companies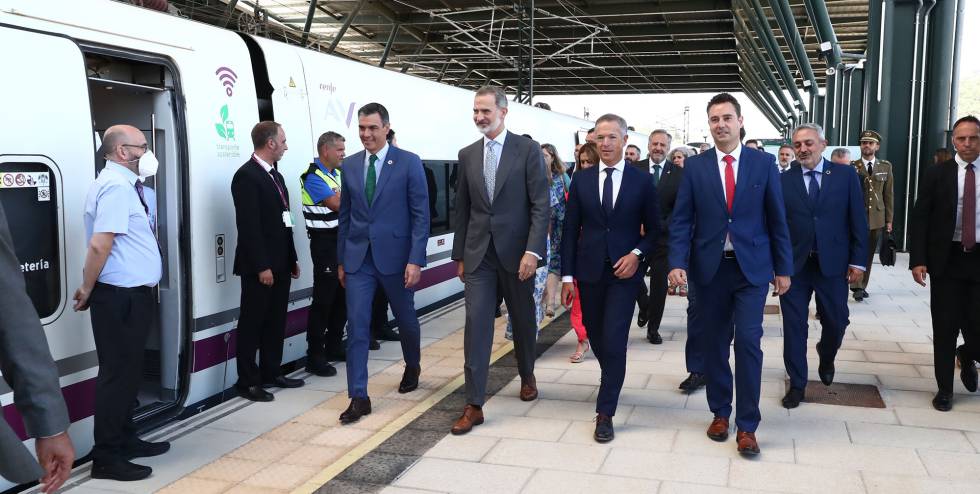 New opening of an important section of the high-speed rail network, and maiden voyage with King Felipe and the President of the Government, Pedro Sánchez, aboard the train. Barely three days after the launch of the high-speed platform in Extremadura, today the line has been considered open Madrid-Burgos with the entry into operation of the route between Venta de Baños (Palencia) and the Burgos capital.
The Minister of Transport, Rachel Sanchez; the Government delegate in Castilla y León, Virginia Barconesand the Chairman of the Board, Alfonso Fernandez Manueco.
Raquel Sánchez has highlighted the milestone of the entry of high-speed in Burgos, by offering "a more sustainable and modern means of transport that copes with both the rise in prices and climate change". The minister has also referred to a boost to social cohesion.
The construction of this last section of 90 kilometers has meant investment of 760 millionwith which Burgos becomes the high-speed connection node with the north.
45 minute upgrade
Travel times from Madrid are reduced by 45 minutes, leaving an hour and a half. For now, Renfe will double the services, going from 15 weekly frequencies to 32, with bonuses for recurring travelers of 50% discount from September 1 to the end of the year.
Thanks to the new line, it is expected that the Alvia train journey between Madrid and the Basque Country will be reduced by 38 minutes. The infrastructure will have continuity towards that Autonomous Communityfor which the tender for drafting the projects for all the subsections between Burgos and Vitoria has been authorized with a budget of 27 million.
Yesterday's opening ceremony follows the Initial fiasco in Renfe operations in Extremadura. The Alvia and Intercity lines that have been operating on the new platform since Tuesday have had serious operating problems the first three days, in the face of which Raquel Sánchez has apologized and tomorrow he sends the presidents of Renfe and Adif to give explanations in Mérida (Badajoz).
This morning's incident, with a 70-minute delay on the train that left Badajoz at 7:25 in the morning, occurred hours after the dismissal of the Production Manager of the Madrid-Extremadura line.