News
Meteorology warns, it will increase even more: We will be scorched!
According to the latest estimates from the General Directorate of Meteorology, the air temperature, which will continue to increase in the north and inland, will reach the peak of May today. The temperatures, which will be 5-7 degrees above the seasonal norms throughout the country, will reach 33 degrees in Istanbul, 36 degrees in Izmir and 32 degrees in Ankara. Here is the 5-day weather forecast for Turkey by province.
According to the latest forecasts from the General Directorate of Meteorology, the air temperatures will rise 5-7 degrees above the seasonal normals today. Temperatures will exceed 30 degrees in most of the country.
CLICK HERE FOR PROVINCIAL WEATHER
WE WILL ROAST
High air temperatures on the last day of the week; 27-33 in Istanbul, 32-35 in Edirne, 33-38 in Bursa and Balıkesir, 32-37 in Sakarya, 35-37 in İzmir, 36-39 in Manisa, 38-40 in Aydın It is estimated that it will be around 33-36 degrees in Antalya and 32-37 degrees in Düzce.
Inner Aegean, the inner parts of the Eastern Black Sea Region, the north of Eastern Anatolia, the Taurus Mountains of the Eastern Mediterranean, and the surrounding areas of Edirne, Kırklareli, Çanakkale, Bilecik, Burdur, Isparta, Bolu, Ankara, Çankırı, Eskişehir, Konya, Bingöl, Muş. It is estimated that the north and west of Balıkesir, the south of Sakarya and Bursa, and the east of Van and Hakkari will be short-term and local, with showers and thunderstorms.
The wind will be generally light from the south, occasionally moderate, and strong (40-60 km / h) on the South Aegean coast after noon.
5 DAYS WEATHER FORECAST FOR ISTANBUL

5 DAYS FORECAST FOR ANKARA

5 DAYS WEATHER FOR IZMIR

WHAT IS THE TEMPERATURE? WEATHER IN TURKEY
The expected weather conditions in some provinces and the highest temperatures of the day are as follows:
Ankara: Partly and slightly cloudy, partly cloudy from time to time, short-term and local showers and thunderstorms after evening hours 32°C
Istanbul: Partly and slightly cloudy, occasionally very cloudy 33°C
İzmir: Partly cloudy 36°C
Adana: Partly and less cloudy, cloudy in parts over time, local showers and thunderstorms in Toroslar locality after noon 34
Antalya: Partly cloudy 33°C
Samsun: Partly and slightly cloudy 23°C
Trabzon: Partly cloudy at noon, with showers and thunderstorms in the inner parts of the region, at noon 21°C
Erzurum: Partly and slightly cloudy, with short-term and local showers and thunderstorms starting from noon, 24°C
Diyarbakir: Partly cloudy and clear 35°C
5 DAILY MAP WEATHER FORECAST
SUNDAY, MAY 29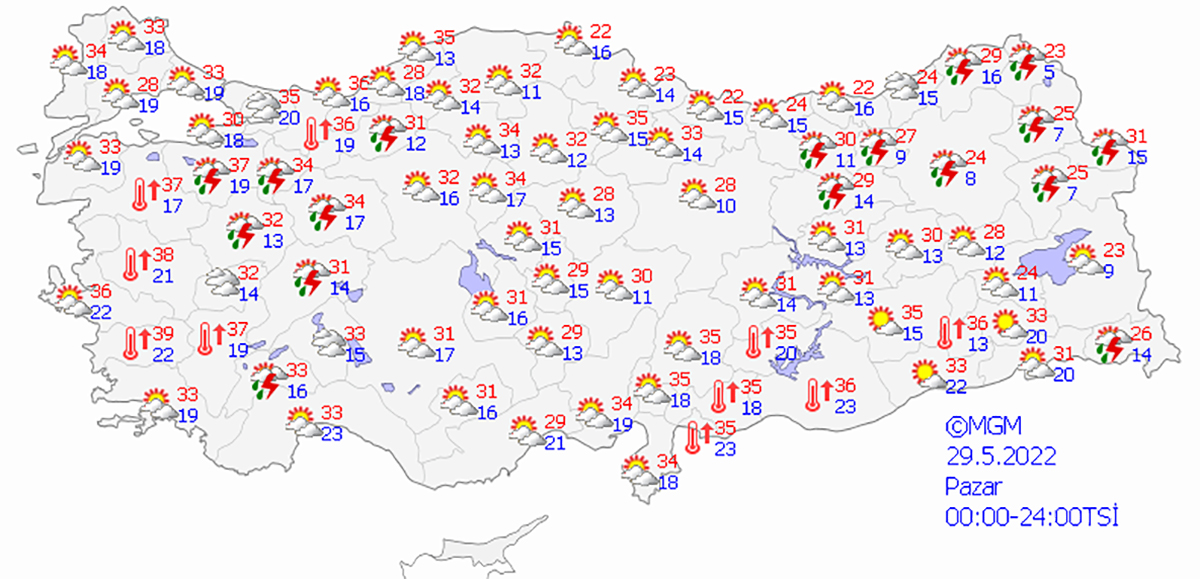 MONDAY, MAY 30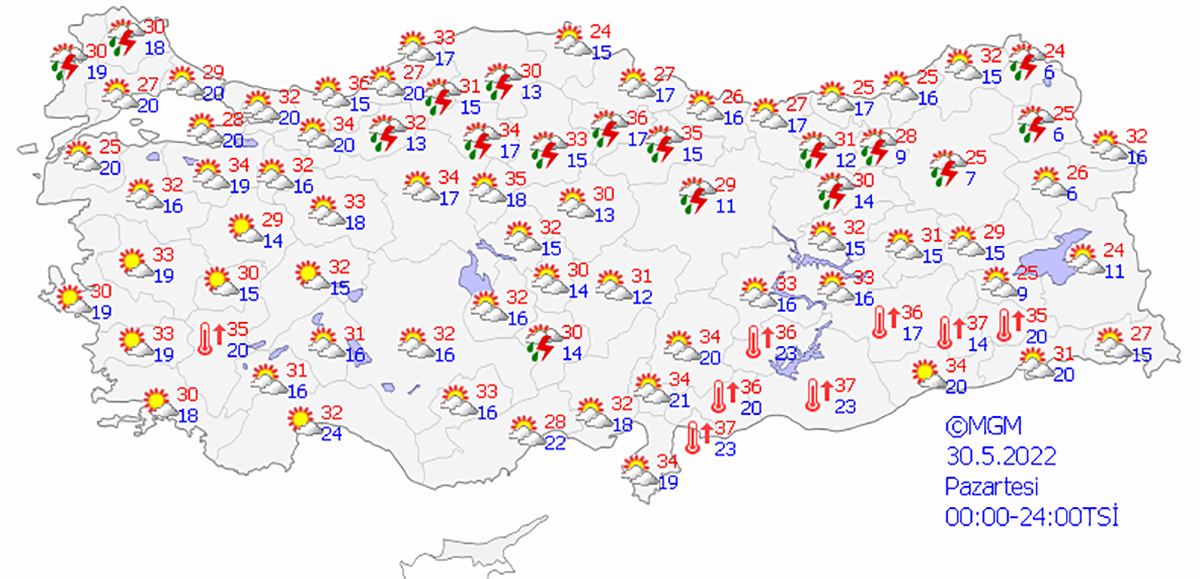 TUESDAY, MAY 31, WEDNESDAY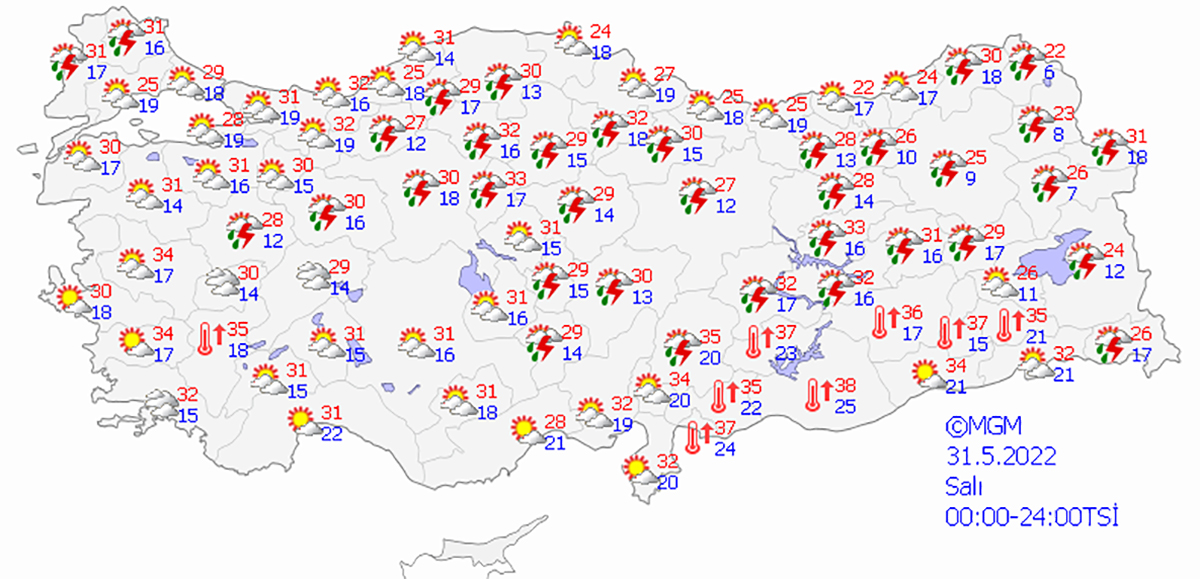 WEDNESDAY JUNE 1st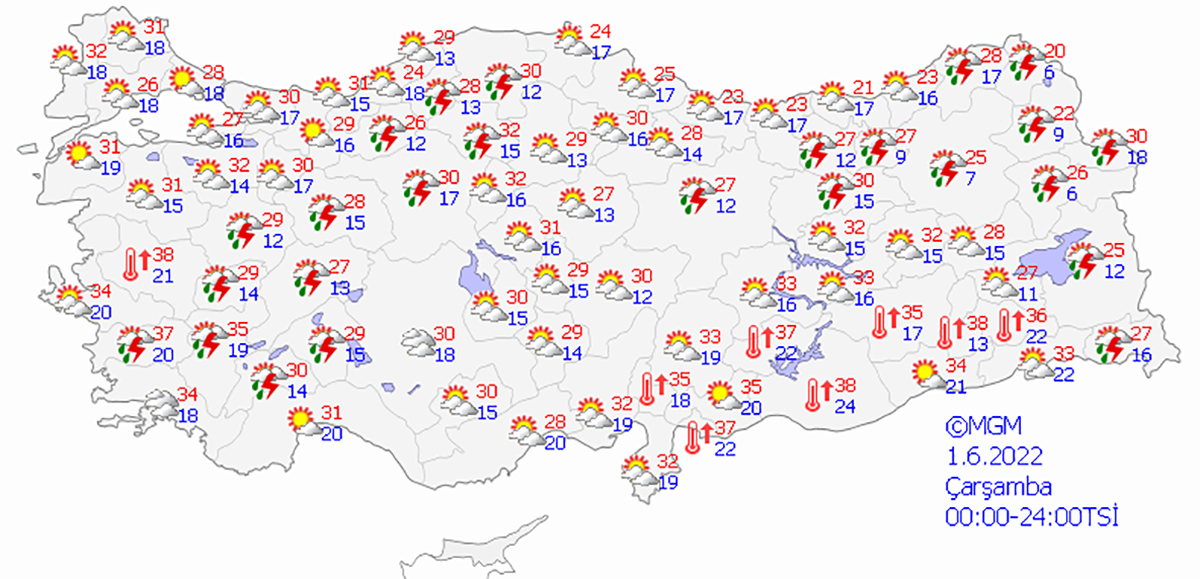 THURSDAY, JUNE 2