News
Ergin Ataman's son Sarp claimed 5 trophies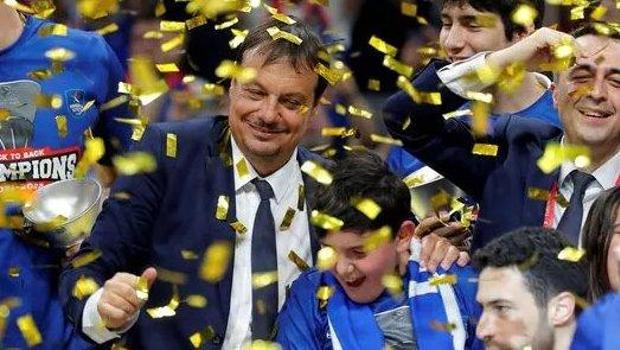 Ata SELÇUK – İbrahim YILDIZ / Istanbul,(DHA)
A welcome ceremony was held for Anadolu Efes caravan arriving at Istanbul Airport by Corendon Airlines flight departing from Belgrade.
class="medianet-inline-adv">
Noting that they are very happy, Anadolu Efes Head Coach Ergin Ataman said, "We know that the hearts of the Turkish people beat with us. We have been experiencing great happiness as a team since last night. We've done a great job. This team made its way into European basketball history. I am proud of my players. Hopefully, such successes in Turkey will continue to increase. As a Turkish sportsman, I am happy on behalf of all sportsmen, on behalf of all coaches, for representing Turkey in this way. I hope much greater success will come to Turkey. Incredible messages have been coming since last night, there is love. This match was watched all over Turkey. The 2nd consecutive Euroleague championship was greeted with enthusiasm. Thank you everyone. Hopefully this will continue," he said.
class="medianet-inline-adv">
SARP ATAMAN: WE WILL FINISH WITH 5 MUG
Sarp Ataman, son of Ergin Ataman, said in a statement, "We have more trophies this year. Turkish league, Turkish and European championship, and then the President's Cup, we will finish this season with exactly 5 cups. I trust my father. I trust both Efes and the Turkish national team. I know everything we can do and the power of the Turkish nation, and I am signing this belief."
DOĞUŞ BALBAY: WE ARE VERY HAPPY TO BRING THE CUP TO OUR COUNTRY
Anadolu Efeb Head Coach Doğuş Balbay said, "You supported us in many squares, and we are very happy that we brought this trophy to our country. We thank you for your support," he said.
When the championship comes…#EuroLeague #AnadoluEfes pic.twitter.com/QYVf1iXGyS

— Sports Arena (@sporarena) May 21, 2022