News
A Cuba that does not arrive | International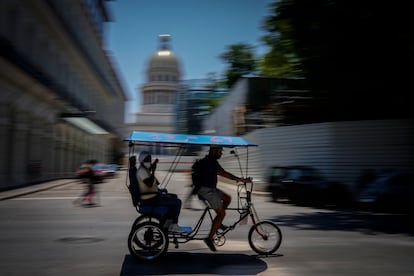 My notes for this newspaper have become, without purpose, a public diary of political emotion. I can't say that I have gone into exile, or I don't know if I have, but I don't live in Cuba anymore. For the past seven years, I have been spending much more time in other cities —Mexico City, Miami, and New York, essentially— than in Havana or Cárdenas, the places I inhabited during my childhood, adolescence, and early youth. Not so long ago I went to the island for the last time, however, my dreams always occur from one perspective, prisoners of an anguish and wrapped in a mist that makes us suppose a greater distance or a longer absence. Foresight passages that perhaps I suffer in advance, like a secret farewell to certain intimate places that know in advance what I do not know and that have decided to move to the dreamlike reality —a fief far from the reach of any power— so that I can continue visiting them .
There is a non-exceptionable probability that the political police will not allow me to enter my country again because they consider me a mercenary or a danger, but even so, an even more pressing question remains: to which country would I be returning, and if, At least at this point, could I return to a country, if it was not cancelled, even with my own contribution, that possibility? I will find out, of course, when I try to return to Havana, even though the time for the revolution has not come (the time for the revolution never comes) and it is precisely at the time of the revolution that I bet my last chips as a citizen or individual. It is, contrary to its apparent grandiloquence, a moment or a stage in which personal time, social time and time of order are coordinated and articulated in a figure as disruptive as it is dazzling, whose vertigo destroys any moral restraint. current.
The last person I spoke to in Havana was a high-ranking State Security official waving me off at the airport, sitting next to me near the boarding gate, a polite repressor, a presence no longer willing to lose neither foot nor step. That is, I believe, the limit station of Cuban life. One way or another, enough individuals have arrived there over several decades, one would expect to find, between the dead and the living, a certain accompanying crowd, but the place is empty, law enforcement works tirelessly day and night to clear any trace or rumor, and the only one waiting for you is the officer who has been commissioned to stifle your dissenting expression. The tactical game tends to compartmentalize, power compresses resistance, distances it from the public environment, since the public is above all an expansive condition of thought. The discussion then takes on the character of a hand-to-hand duel.
This perspective is disconcerting, because it turns friendship into a matter of state. No one is used to cultivating their affections becoming a matter of national security, although it is, after all, a privileged operational situation. In the first year of high school, my mother wanted to change my classroom because in the group there were many students who came from dysfunctional families (this is more of a tautology and a euphemism; a tautology because every family is dysfunctional, and a euphemism because they were students poor, marginalized, many of them black). I protested as much as I could and the transfer did not happen. Over the years, what the political police asked me was exactly the same, that I not associate with dysfunctional people. If I did, I could be punished. Perhaps the reminiscence of that first victory gave me the strength to later neglect the repressive arm of power.
It takes time to realize that both episodes contain a confrontation or a questioning of the same type of order. Why had I protested so furiously when they tried to change my class? It was not clear to me, perhaps just because I was going to have less fun in a more disciplined classroom, a classroom without conspiracies. That was what I learned from experience. That the conspiracy, behind all the tragic and violent episodes that it entails, is a secret party. Today the friends that the political struggle has given me are mostly in prison or in exile, two places located outside the range of action of change or break, a displacement that takes you out of the lapse of the deed.
I see it a bit like launching yourself to the bottom of the course, finding yourself in a ravine and, with no possibility of going back, falling. The individual reaches the revolution, but the revolution does not reach him. The individual goes punctually to the appointment with reality, but reality is delayed. How many times has this happened during the long years of Castroism? I don't know, countless. A few months ago, last July, the most important popular protest against the Cuban dictatorship that has ever happened took place. I think, modestly, that what some of us felt was that the place we occupied was beginning to be inhabited. That agglomeration has been, for now, exemplary dissolved. It is something that the recursive sense of history can explain, a brief Thermidor. The fragile place of the revolution is emptied and the remaining bodies are thrown, which can no longer be reintegrated, beyond the legal order, towards the dungeons or towards the migratory routes.
Join EL PAÍS to follow all the news and read without limits.
subscribe
In turn, that already known solution brings a predictable reaction. Activist Michel Matos, a member of the San Isidro Movement, seems to have summed it up best: "It is said that political prisoners are the most important issue right now, from a human perspective that is true, but from a strategic perspective it shouldn't be, it just because it is not the first time since communism arrived in Cuba that we have political prisoners, and the dictatorship may have adopted a methodology, which is that when things get a little out of control, it takes a group of people, locks them up, and it is not only a kidnapping of those people, but also of their friends and their groups".
The policy of economic suffocation, a barbaric strategy in its fatuous stubbornness, prevents the formation of a middle class, which is the financial arm of civil society. The strengthening, growth and boom, from each of its fronts, of civil society in the years in which the slogans gave way to negotiation (whatever it was, not only what occurred at the bilateral level between governments ) provoked a contaminated dissidence and, with it, an unprecedented revolt. The exemplary sentences that followed the outbreak of last July seek to annul the discursive richness and the subtle symbolic nuances with which the citizens began to communicate with each other; reduce them to appellative language, to the demand for liberation as a political horizon, and cut off the advent of forms of conversation alien to exclamatory hysteria or the evasion of the subjunctive.
Reaction is a period when we are not allowed to express ourselves beautifully. Certain official rhetoric as a form of opposition, its unfolded historical parchment, kidnaps the self-confidence of the language, the word that comes out and slips. The current regime summons them and they come. It seems to me, today, that it is an inevitable process in the long run. Unfortunately, that chatter requires the fuel of the self-sacrificing individual. A death order cannot be overcome with a story that needs the death order to generate new victims all the time, the verification that the death order continues to be what it is. When the prisoners are free, we better not have forgotten how we talked before they were put in jail.
Subscribe here to newsletter of EL PAÍS America and receive all the informative keys of the current affairs of the region
Exclusive content for subscribers
read without limits