News
Mevlüt Çavuşoğlu: We want to solve the problems we have with the USA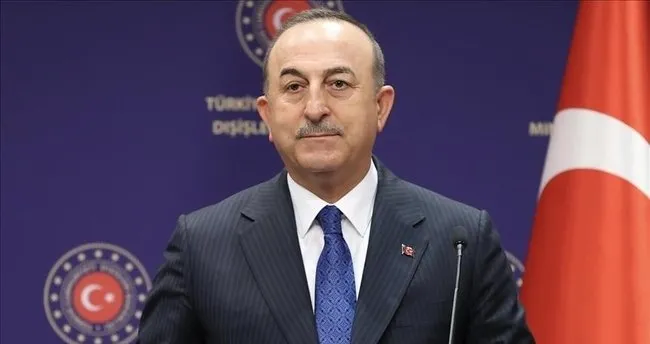 Çavuşoğlu, who is in New York to make contacts in the USA, met with members of the Turkish-American community at the Türkevi.
Explaining that they come together with Turkish citizens, cognates and relatives in that country no matter which country they go to, Çavuşoğlu celebrated the 19 May Commemoration of Atatürk, Youth and Sports Day, which will be celebrated two days later for the Turkish community in the USA.
Stating that the world is going through a difficult period and is shaken by conflicts and crises, Çavuşoğlu said that these wars and conflicts unfortunately take place in the geography where Turkey is located.
Expressing that the war in Ukraine started and the problems in the region still continue, Çavuşoğlu said:
"At times like these, leadership vision and common sense are gold. This has been clearly seen in the Ukraine war. We continue our way in these difficult days with our active and principled foreign policy under the leadership of our President, and the policy we follow in this process is seen by everyone, whether they like it or not. It is appreciated by everyone. Latin America" "Our interlocutors from Turkey to Africa, from the Middle East to Europe praise Turkey's constructive role in this process. We work not so that others can praise us, but to contribute to world peace in this difficult process."
Noting that it is not easy to follow an independent policy in this difficult period, Çavuşoğlu continued as follows:
"Whether it's countries or international organizations, especially in times of crisis, everyone wants to take their side and they put pressure on it. In diplomacy, we see that it is not a very mature attitude. When a country gets offended with the other, it puts pressure on any country it recognizes, and wants it to cut off relations with the country with which it has broken relations. Sometimes other countries that are in need of those countries have to take steps in this direction, even if they don't want to. In my 7.5 years of ministry of foreign affairs, I have seen this a lot in this process, unfortunately I have seen it with regret, but Turkey has never resorted to such a path, on the contrary, it has made efforts to take confidence-building steps to reconcile the resentful and discord countries, to solve their problems. "
Emphasizing that Turkey contributes to world peace not only in its immediate geography but beyond, Çavuşoğlu said that they are actively working for the resolution of crises from Colombia to the Philippines.
Explaining that they will attend a meeting on migration management at the United Nations (UN) in New York, Çavuşoğlu stated that Turkey is one of the countries with the most experience in this regard.
Stating that food safety is one of the most sensitive issues due to the war in Ukraine and Kovid-19, Çavuşoğlu stated that he will attend the meetings to be held at the UN on these two issues.
"WE ESTABLISHED A STRATEGIC MECHANISM"
Stating that he will also hold a bilateral meeting with US Secretary of State Antony Blinken, Çavuşoğlu said:
"We want to solve the problems we have in our relations with the USA. The meeting in Rome, the meeting between our President and Biden, was an important meeting in this sense. We established a strategic mechanism with the proposal of Mr. Biden. The purpose of this mechanism is to work on the problems we experience in our bilateral relations and in the region, the resolution of the issues on which we disagree, or how we can act together on this issue. "
Çavuşoğlu said that Turkey-US relations have developed in many areas.
Stating that especially the economic relations with the USA have improved, Çavuşoğlu said, "Our trade exceeded 27 billion dollars last year, there is a difference of about one billion dollars in our favor, but we want it to be balanced and we want to increase to 100 billion dollars. On the other hand, within the framework of the crises in the world, in which areas we can develop our cooperation with the USA, we will discuss them within the framework of this mechanism." He said.
"WE HOPE TO HOLD A MEETING AT THE LEADERS' LEVEL THIS YEAR"
Stating that they held the first meeting with the USA at the level of deputy foreign ministers in Ankara, and that they will hold a meeting at the level of foreign ministers in New York today, Çavuşoğlu said, "We hope to hold a meeting at the level of leaders within this framework this year. I hope we can solve or reduce the problems by working within the framework of this mechanism and result-oriented. We can also improve our cooperation," he said.
"THE RUSSIA-UKRAINE WAR IS STILL COMING MORE COMPLEX WITH EVERY DAY"
Explaining that Turkey is making an intense effort to resolve the Russia-Ukraine war, Çavuşoğlu continued as follows:
"This is not an easy process. It would have been easier if it could have been solved at first, which we tried hard, but it's getting more complicated every day. Unfortunately, the war continues in eastern Ukraine from one side. On the other hand, we started to see the breezes of the Cold War again. Surely there will be a ceasefire one day, but the Cold War seems to last longer. In this process, Turkey needs to continue to follow a rational, balanced and strategic foreign policy, and we will do our part under the leadership of our President."
Expressing that they see that there are countries that want the war to continue, Çavuşoğlu noted that the people of Ukraine and Russia have paid the price for this.
Emphasizing that there should be a ceasefire as soon as possible, Çavuşoğlu stated that Turkey is working with UN Secretary General Antonio Guterres on the evacuation of civilians and that more than 600 civilians were evacuated from Mariupol.
Reminding that 17 thousand Turkish citizens were evacuated from Ukraine after the war started, Çavuşoğlu said that they evacuated Meskhetian Turks and Crimean Tatars upon their request.
Çavuşoğlu said, "I hope we will bring our Ahiska brothers to our country, and we will, in the coming period."
Mentioning that there is a contact group proposed by the UN Secretary General on humanitarian issues, including the UN, Turkey, Russia and Ukraine, Çavuşoğlu said, "We are also planning to hold a meeting at a technical level in the coming days."