News
Last Minute: Stunning statements from Beşiktaş President Ahmet Nur Cebi! Will he be the TFF presidential candidate? The words of Sergen Yalçın and Önder Karaveli…
class="medianet-inline-adv">
Beşiktaş President Ahmet Nur Çebi made important statements regarding the agenda of the black and white club at the press conference held at Vodafone Park.
The full statements of Ahmet Nur Cebi are as follows:
I have made my official application to be a candidate in the next election.
When we arrived, there were very difficult situations in the club. We found ourselves as the president of Beşiktaş in a very troublesome process, in which not a penny went into the safe and payments were not made for more than 6 months. It was very important for us to first understand the issues, then remove the burden of troublesome contracts and pursue sporting success while doing all this. I think we accomplished that.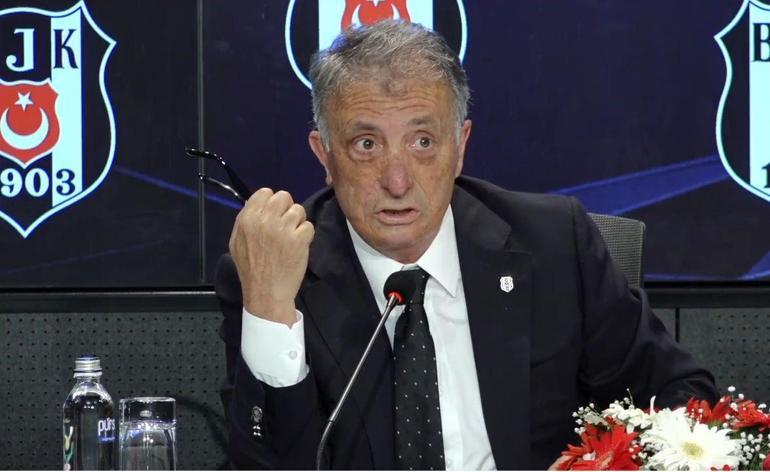 class="medianet-inline-adv">
"WISH IT CAN BE MORE CANDIDATES"
There are Financial General Assembly and Elective Ordinary General Assembly on 28-29 May. The decision of our general assembly members, who are the real owners of Beşiktaş, will be an indicator of what we do and what we cannot do. I wish Beşiktaş had more candidates to increase its brand value. I so wanted this. Although I have said this many times, in the current situation, it has become an election for two candidates, including myself. I thank the other friend and congratulate him. It is our duty to sincerely thank those who aspire to work at Beşiktaş.
"4.5 BILLION TL IS AN INEVITABLE END"
When we took office, the debt was 3.3 billion TL. Currently, we see that the debt is 4.5 billion TL. When we put the interest and exchange rate differences on top of it, 4.5 billion TL is an inevitable end.
Amateur branches are very important for Beşiktaş. The loss of amateurs, which was around 10 million euros at the beginning of the year we came, has been reduced to 5 million euros the next year and to 2 million euros in the last year. It is very important for me to know that these will be reflected in the balance sheet over time.
LJAJIC EXAMPLE
Considering the examples such as the annual contracts of 3-4 million euros signed with Ljajic, Douglas and many football players, it is impossible not to see where the main debts come from.
class="medianet-inline-adv">
This stadium was uninhabited. It was a privilege for us to take the settlement of this stadium. In addition, Akatlar and Süleyman Seba facilities were renovated.
THANKS TO SERGEN YALCIN PERIOD
In a period like the pandemic, we received 3 trophies. I would like to thank our coach, players and managers of that period. We also went to the Champions League. Unfortunately, we had an unfortunate process and we did not get points. Referee errors, balls hitting the posts, bad luck and injuries affected us badly. We formed a qualified staff, but bad luck, obstacles prevented success, no matter what you say.
In the future, we want to start a process with young players and a renewed staff with a low-cost long-term plan. We will continue with Ersinler, Rıdvanlar, Serdarlar, Güven and we will find and remove new ones. We will prepare Beşiktaş with patience.
class="medianet-inline-adv">
QUESTION – ANSWER SECTION
What kind of transfer budget will you have for the new season? There is a star striker expectation, what do you think? We know that there are offers for Rıdvan Yılmaz as well. What are you thinking?
No crazy budgets. Getting stars is very easy. You give the money, you pay the debt, you go home. Then those who come from you suffer. Our goal should not be to get stars, but to create stars. In the team of 20 people, there will be 3-4 creative players who will set an example for young players. I prefer this especially in centre-forward.
Our young players are getting offers. None of our children will go unless we get the numbers in our heads. They are very good now and will be much better.
class="medianet-inline-adv">
SUPPORT TO SPORTS LAW
The situation was difficult the day we arrived, and it is difficult now. We just have healthier contracts now. The bulk of the incoming cargo, the invisible side of the iceberg, remains in place. In order to prevent and alleviate this serious problem, the Sports Law was enacted. It is not for us to criticize those who do this. We deserved it. It puts 100-year-old communities in huge debts. Revenues are below debts. It's not sustainable. We are here for the challenges too. Perhaps the number of candidates for this is low. Although some thought that I did not manage well, they did not apply for the job. The Sports Law is right and it will push us hard. However, there are some problems. Restrictions on lending and borrowing by executives are not correct. I think they will be rectified over time.
class="medianet-inline-adv">
"You can't ask for 10 times what you have right"
Contracts are made with young people. However, it is not done in a way that harms Beşiktaş's interests. You can't ask for 10 times what you're entitled to just because an offer came in. Our children do not do this, but managers do. We sign if they comply with our principles and wage policies. We can't wait, we know, we know how to wait.
FAN TOKEN DISCUSSIONS
Why didn't we get into the token thing? I don't think other clubs are generating revenues as you mentioned in these matters. You lack information on this subject. I have delegated this issue to my team, I will also make a decision at the final stage, but we are still keeping it waiting. Regarding the Fan Token, my supporter should not be a victim when they buy this token. We talk a little bit about this. But there is a perception that Beşiktaş could not do this job.
REFERENCES MUST BE RENEWED TO SAVING TURKISH FOOTBALL
If you were solving the referee problem when you banged your hand on the table about the referees and shouted after each match, would it still be talked about right now? So that's not how the problem is solved. This problem cannot be solved by asking the President of TFF and MHK to resign. The problem is with the referees. The young referees arrive. If he is going to make a mistake, let the young referees do it.
INVITE TFF AND ITS BOARDS TO REsign
An operation was performed. However, it was missing. There were remnants of those who harmed Beşiktaş. Since it was done incompletely, the operation could not give the required fruit. Say goodbye to all former referees. Young referees should be paved. It means I've done my part. They walk through the referee because they can't find anything to criticize us. The referees made mistakes, they lost points, but I struggled about it. The operation is proof of that. The problems were not fully resolved because it was made incompletely. I hope the new management will fix these issues. I even call out to all the boards of TFF. All of you resign. All are sided. Let's change referees and boards.
WILL HE BE CANDIDATED FOR THE PRESIDENT OF TFF?
I don't have any thoughts like the TFF Presidency. I want to serve my club. If I had such a thought, I would not be a candidate for the Presidency of Beşiktaş.
DELIVERED FLOWERS TO THE REFEREE
Those who give flowers to the returning referees, those who do not find the operation correct and those who return the referees are those who say that they are victims of the referee after the matches. You say that you are a victim, and you say that you are doing wrong to those who try to fix it.
"SERGEN YALÇIN WANTED TO LEAVE 3 TIMES"
I am determined to stand behind my teacher. I was determined to stand behind Önder Karaveli and Sergen Yalçın. However, my teacher Sergen wanted to leave himself 3 times. More would go into torturing him. Sergen is our son, we couldn't make him go through this hardship.
"I DID NOT SEND ANY TEACHER"
I haven't sent any teacher since I came. Including the hunter. We said only to those who want to go. We also gave the assurance to stand behind them. I'm very sure about Valerien Ismael. I trust your choices. There is no U19 match to date. He tells each of our young children where he went wrong after the games. He also tells his U19 coaches how he wants to play. He often expresses that he trusts them. I will stand behind my teacher as long as he does not want to go.