News
Kaftancıoğlu, first protest your mechanic president!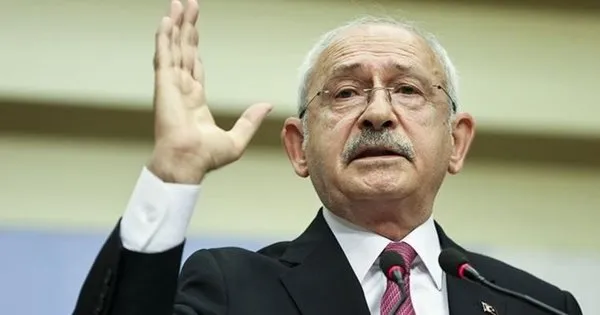 KAFTANCIOĞLU ANNOUNCED LIKE IT WAS AN ENVIRONMENTAL MASSACRE!
Despite this statement by the Minister Institution, the Republican People's Party (CHP) made different claims, such as an environmental massacre and hostility to Atatürk. CHP Istanbul Provincial Chair Canan Kaftancıoğlu made a statement on the social media platform Twitter as if there was an environmental massacre, without mentioning that a national garden will be built at the airport, saying, "Tomorrow, we are going to Atatürk Airport at 11:00. A few words to those who are hostile to Atatürk, nature and the city. We expect nature-friendly institutions and individuals," he said.
"KAFTANCIOĞLU, PROTEST YOUR PRESIDENT OF THE ÇARKÇI FIRST!"
AK Party MDK Chairman and Hatay Deputy Abdulkadir Özel, on the other hand, tagged Kaftancıoğlu on social media and said: They claimed that the project/idea of ​​the garden was theirs and that the government stole this project! First, protest your mechanic president!"
THE VIDEO OF THE NATIONAL GARDEN PROJECT WAS SHARED MANYLY, WHICH HE SAID IT BELONGS TO HIS
Kılıçdaroğlu's words that he claimed that the National Garden project/idea to be built in the area where Atatürk Airport is located four years ago belonged to them and that the government stole this project were widely shared on social media.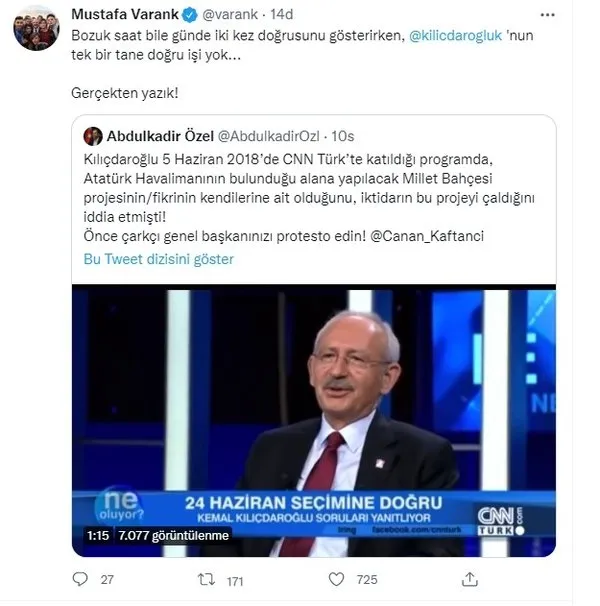 "KILIÇDAROĞLU DOESN'T HAVE A SINGLE RIGHT JOB… TRULY PASSION!"
Industry and Technology Minister Mustafa Varank also reacted to Kılıçdaroğlu by sharing the statements of Kılıçdaroğlu, who claimed that the Atatürk Airport national garden project was his own project, from Özel. From his social media account, Varank said, "Even a broken clock shows the right time twice a day, Kılıçdaroğlu does not have a single correct job… It's a real shame!" used the phrases.
WHAT DID KILIÇDAROĞLU SAY?
CHP Chairman Kemal Kılıçdaroğlu said the following in his speech in the TV program he attended in 2018: "(…) He thinks of the airport as a nation's garden. Because they are listening to our phones, they are making such a statement about what we will do there. We have even made the plans for the place. Which cultural centers we will build and How we will do it, including even the shape of our buildings… Our metropolitan mayor will explain. This is an important claim. All the plans of the National Garden to be built at Atatürk Airport, together with the photos, where and what to do are prepared. The place is the same. We do not know their projects. Our project is an extraordinarily beautiful project. (…)