News
A famous doctor, a billionaire and an extreme trumpist compete in the Republican primaries in Pennsylvania | International
The November 8 elections in the United States begin to be decided this Tuesday in Pennsylvania. Depending on who now wins the primaries in the Republican and Democratic parties, the balance may tip to one side or the other within six months in a State that seems key for the majority in the Senate. The battle is being very close, especially in the Republican Party, to which the current owner of the seat, Pat Toomey, who is retiring, belongs. In this duel between a famous doctor and a billionaire investor, a third candidate has emerged, neither a billionaire nor famous, but quite an extremist, who threatens to cause a big surprise. On the Democratic side, the favorite is a two-meter-tall giant who asks for the vote in sports clothes and shorts.
The duel for Pennsylvania attracts all the spotlight for being a state where both parties have real possibilities, because it once again tests the validity of Trumpism in the Republican Party, even beyond the former president, and because of the gallery of characters who are in contention . None leaves indifferent.
Dr. Oz is Trump's recommended candidate. Mehmet Oz, of Turkish descent, a non-practicing Muslim (a Muslim has never become a senator in the United States), was a cardiothoracic surgeon, an eminence in his field. From there he launched himself on television and came up. First as a guest of Oprah Winfrey and then on his solo show, he began to talk about what he knew and also what he didn't know. He frequently gave pseudoscientific recommendations, directly wrong or out of place. Still, he made fame and fortune (he's worth more than $100 million) and wanted something more. He decided to jump into politics and believed that Pennsylvania was the most appropriate place.
Trump's support is his great asset, and he takes advantage of every opportunity, every message to supporters, every public address, every interview or every announcement to insist on it to almost ridiculous extremes. In some of his campaign ads, Trump occupies a more prominent space than himself. And even so, he does not finish convincing the voters of his party. They reproach him for the fact that in the past he was tolerant of abortion, critical of fracking to extract oil and a supporter of greater gun control.
Those concessions to centrism are not easily forgiven in the Republican Party of the Trump era. In addition, they consider him a paratrooper, someone who had severed his ties with Pennsylvania and who has returned to the state opportunistically because that is where he saw that he could compete for senatorship. On May 6, at a mass event in Greensburg which included the presence of the former president, some of the people cheering for Trump booed Dr. Oz at his own rally.
Join EL PAÍS to follow all the news and read without limits.
subscribe
The attacks of the former president
Oz's great rival seemed even then David McCormick. McCormick has the perfect resume. Graduated from West Point and Princeton, he held positions of responsibility in the George W. Bush Administration, as Undersecretary of Commerce, first, and of the Treasury, later, having to deal with the international financial crisis. In the private sector, he was a consultant for McKinsey, head of FreeMarkets and, in recent years, CEO of Bridgewater, the manager of hedge funds, where he had a salary of 22 million dollars a year before launching into the Senate campaign.
Trump has labeled him a "liberal Republican from Wall Street" and has said that he is the candidate "of the special interests of the establishment of Washington". McCormick, much more moderate than the former president in his political positions, has tried, however, to avoid a clash that would be suicidal for him. On the contrary, he has temporized, looked for common ground, praised Trump and incorporated former positions of the former president into his team, to which he has sarcastically replied: "If someone has been 200 miles from me, he hires him." In fact, his own wife, Dina Powell, now in a senior management position at Goldman Sachs, was a deputy national security adviser under Trump.
But Trump's definitive sentence on McCormick was this: "He may be a nice guy, but he's not MAGA," referring to the acronym for Make America Great Again, Trump's motto, which could be translated as "let America [por Estados Unidos] be great again." He is not MAGA, he is not a Trumpist, he is not one of his own.
Oz and McCormick have faced a dog face and check book blow. They have spent millions of dollars on the campaign, about $15 million each before the final fireworks. And much of that money has gone into negative publicity for the other candidate, with some success. To Dr. Oz they insistently accuse him of being a RHINO (Republican In Name Only, Republican only lip service) and McCormick to be handed over to China, twisting to delirium the commercial and financial relations that it has had with that country.
Dodging this crossfire and with minimal spending on her campaign, the figure of Kathy Barnette has emerged strongly, a former political commentator who failed in her previous attempt to be a congresswoman and who He has a tremendous personal history. Her mother was 12 years old when she was born. She had been raped at 11. This lends great credibility to her position against abortion, elevated to a campaign issue by the leaking of the draft of the Supreme Court ruling that will make it no longer legal throughout the country.
Beyond abortion, if McCormick is not MAGA, Barnette is ultraMAGA. Her Twitter account is full of surprises. She maintained that Obama was a Muslim and that this conditioned its foreign policy. He posted multiple Islamophobic and homophobic messages. And in 2015 he even tweeted: "Pedophilia is a cornerstone of Islam." When questioned about these messages, her answers have ranged from being long-standing or out of context, to denial against all evidence, as when she was shown that tweet of hers from 2015: "I don't think it's me. She would never have said that."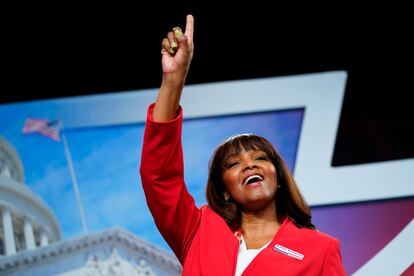 Despite being almost more Trumpist than Trump, the former president has been forced to intervene to cut his rise. Trump initially supported Sean Parnell, who ended up withdrawing from the campaign under accusations of sexist violence with his wife. If supporting Oz doesn't work out either, he would make a fool of himself, so he attacked his rival: "Kathy Barnette can never win the election [de noviembre] against radical left Democrats," he said. in a statement last Thursday. "She has a lot of things in her past that haven't been properly explained or investigated, but if she's able to do that, she'll have a wonderful future in the Republican Party and I'll be with her to the end."
Trump doesn't dislike Barnette, but he sees her as too extreme to win over the Democratic nominee. That is one of the paradoxes of the Republican primaries. Candidates from more extreme positions are more likely to win within the party, but less likely to win against the Democrats, which matters most. In clearly Republican states, that's not a problem, but in Pennsylvania, it can be.
The Democratic frontrunner is also nothing conventional. John Fetterman is lieutenant governor of the state, so one could imagine him campaigning in a suit and tie in hotels and convention centers. Nothing is further from reality. Fetterman campaigns in shorts and a sweatshirt, sporting his goatee and a few tattoos, and meeting with constituents where needed.
Behind that anti-system appearance there is a politician who defends promoting public health, the reintegration of convicts, the legalization of marijuana and the defense of trans rights. Part of his program may antagonize the more conservative voters he hopes to attract. Perhaps Conor Lamb, the second-place finisher in the Democratic primary polls, would have a better chance, with his more centrist program, but he is far behind in the polls. Fetterman seems to have the primaries in his pocket, although this Sunday he announced that a heart problem had led to his hospitalization two days earlier. Although he has assured that he is already much better and that he is on the way to a full recovery, he has added another note of suspense to the campaign.
It is not the only race. For governor, Trump supports a candidate who is as obsessed as he is with the conspiracy theory that he was robbed of the election, Doug Mastriano. Mastriano and Barnette are on the same page and support each other. However, in the Republican Party, the more moderate currents tremble at the thought that this could be his electoral ticket on November 8.
In the legislative elections, the entire House of Representatives and 36 of the 100 senators are renewed. In the Senate, the most powerful House, the die is cast in the vast majority of the States where they compete, because they have a solid Democratic or Republican majority. There are only a handful truly in play and considering that the division of forces is now 50 to 50 senators, everyone counts.
The Republicans are seen more strongly by the low popularity of the president, Joe Biden, and economic problems (record gasoline prices, rampant inflation, low consumer confidence and, now, a shortage of infant formula). And they have their sights set on Nevada, Arizona and Georgia, where Democrats risk losing three senators. For their part, the Democrats have their hopes in two states in which Biden won Trump in 2020 and in which two Republican senators are ending their terms: Wisconsin and, above all, Pennsylvania.
Follow all the international information in Facebook Y Twitteror in our weekly newsletter.
Exclusive content for subscribers
read without limits