News
President Erdogan explained the details: 200 thousand houses in 13 different places
Addressing the nation after the Cabinet Meeting at the Presidential Complex, Erdoğan reminded that they left the month of Ramadan and the holiday behind and said that they are walking towards a better future with the energy and hope brought by spring.
"3 MILLION 700 THOUSAND SYRIANS ARE OUR BROTHERS"
Erdoğan said that Anatolia has embraced people from other geographies for various reasons in every period of history, that it is their homeland, and that especially in the last 150 years, all people from the Caucasus to the Balkans, whose heads have fallen into trouble, whose lives and futures are under threat, have turned to Anatolia. He said he translated it.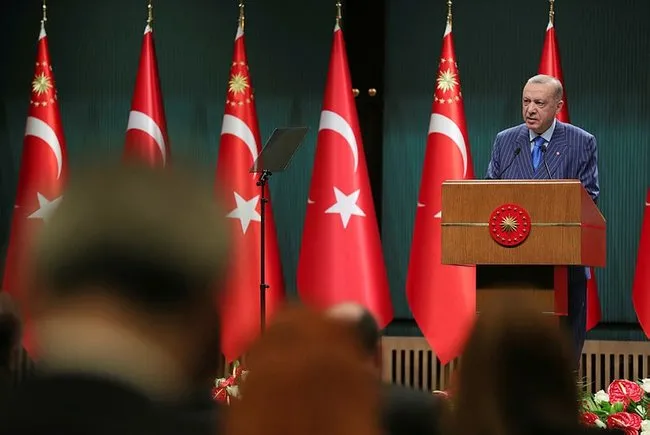 Stating that the people living in these lands never "handedly", excluded, marginalized, or harbored hostility towards anyone who came to save their life and dignity, Erdoğan said:
"Together, we worked and struggled to protect our homeland, prayer, flag, independence and future, to develop our country, to strengthen our state, to develop our nation. We did not refrain from giving our lives for our homeland in every situation, from Çanakkale to the War of Independence and until July 15, when necessary," he said. We marched to martyrdom, we slept in the same grave. its borders, step by step, extend from Europe to the farthest reaches of Asia, from Siberia to the depths of Africa, from one end to the other, across the oceans, to America. No one can deny that we have ties."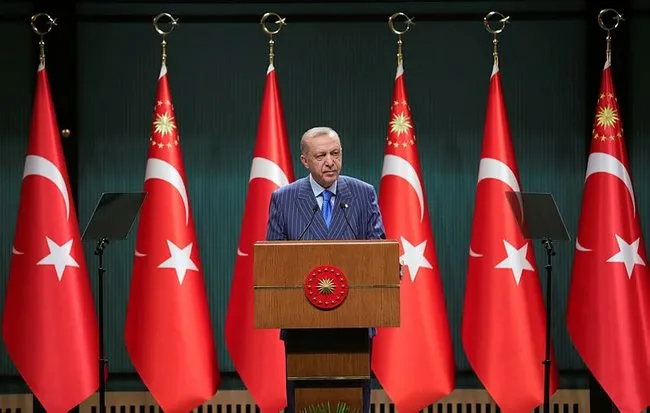 Stating that Turkey never broke the bond of love with its brothers in these geographies, Erdoğan noted that after the First World War and the National Struggle, millions of people came to Anatolia with the establishment of the Turkish Republic.
Stating that many people from different origins, from Circassians to Bosnians, from Tatars to Turkmens, from Georgians to Arabs, started a new life for themselves in various parts of Anatolia, Erdoğan said, "In fact, almost half of our population in the first years of the Republic consisted of people coming from outside our borders." said.
President Erdoğan said that the country's doors are open to those who have been hit everywhere, from the Balkans to the Caucasus, during the Republican period.
Recalling that millions of families from the former Yugoslavia, Bulgaria, Romania, East Turkestan, Iran, Central Asia, Afghanistan, Bosnia and Kosovo took refuge in Turkey at various times, Erdoğan said that one of them is He stated that although some of them went to other places later on, a very large part of them stayed in Turkey.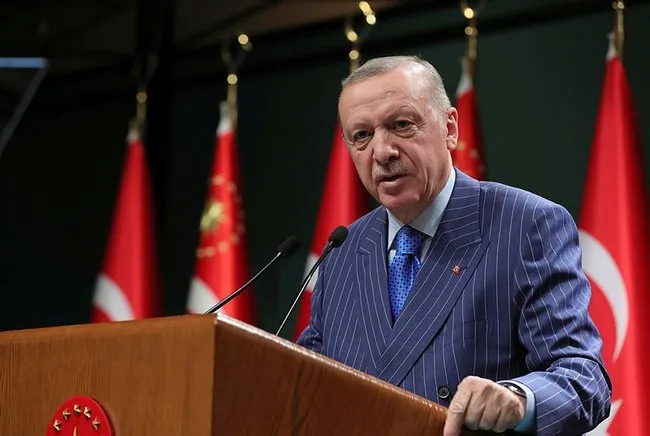 Erdogan continued his words as follows:
"Now, what does Mr. Kemal say? 'We will deport them all back to Syria. We will send them back to where they came from.' yes, we didn't find these lands hudayinabit. We know very well what the struggle waged in these lands is. Currently, 3 million 700 thousand Syrians are our brothers and we have protected, protect and will protect these brothers. Keep walking with them from Ankara to Istanbul again. But we will continue on our way with these brothers in the culture of Ansar and the culture of immigrants, and we will never make any concessions. Because we believe that only those who believe are brothers and we will protect our brotherhood."
"WE STARTED THE PROJECT OF BUILDING 100 THOUSAND BRICKET HOUSES IN SYRIA"
Stating that almost all of the 1 million people who came to Turkey from Iraq when the Gulf War started, returned to their homes after the war, Erdoğan said that after the internal turmoil in Syria, approximately 4 million people came to Turkey and that the briquette houses that are under construction in the north of Syria are as much as possible. He said they will try to do more.
Stating that they are making every effort to stabilize Syria, where conflicts still continue, terrorist organizations continue their attacks, and where political unity and territorial integrity have not yet been achieved, Erdoğan continued his words as follows:
"So far, 500 thousand of the Syrians who have come to our country have returned to the places we have made safe in the regions adjacent to our borders. With the support of international aid organizations, we ensure that 4 million people stay in their places, especially in Idlib. Despite this, the tension in Idlib and the unsafe environment in other regions continue, and the number of Syrians in our country continues. We made a proposal to the leaders who attended the G-20 Summit held in Antalya in 2015 to build cities for Syrian refugees on the territory of this country that will provide the resettlement of 1 million people quickly. Unfortunately, especially Western countries are trying to keep refugees away from their borders. they did not give the necessary support to this project, which could be implemented with very little of the expenditure they made.Turkey had to undertake a large part of this burden both within its own borders and on Syrian territory.
Last year, with the support of non-governmental organizations, we started the project to build 100 thousand briquettes for people living in very difficult conditions on Syrian territory. Within the scope of this project, we have completed 57 thousand briquette houses, work continues on 20 thousand, and we will build the remaining 23 thousand houses as soon as possible. We may be able to increase this number further. Now we are taking another step that will bring our main project to life in 2015. With the financing of international aid organizations, we will hopefully ensure that 200 thousand houses are built in 13 different places in Syria, with schools, hospitals, industry, agriculture and all the necessary infrastructure. Our aim is to ensure the return of 1 million Syrians still living in our country to these cities with all humanitarian conditions. Studies of our institutions show that more than 1 million asylum seekers volunteer for this return. Thus, we aim to complete another important step in the solution of a tragedy that the whole world has turned its back on, ignored and closed its conscience with, under the leadership of Turkey. Hopefully, as the work progresses, we will share information about the details of this process with the public. We say that my Lord should not leave anyone stateless, homeless, homeless, and test him with his life, property and honor."
President Recep Tayyip Erdoğan said, "The number of irregular migrants who entered our borders through various means and sent back to their countries has exceeded 320 thousand since 2016." said.
Addressing the nation after the Cabinet Meeting at the Presidential Complex, Erdoğan stated that no one would leave their country, home, job, family or ties for no reason and set out for the unknown.
Expressing that Turkey opens its arms to those who are faced with such an obligation, and that this is a humanitarian, conscientious and historical duty, Erdoğan said that this moral duty is duly fulfilled and the world is faced with peace with a heart.
Stating that the conflicts in Syria started with the brutal attacks of the regime against civilians, as well as the encouragement and support of the opposition by Western countries, Erdogan said:
"If this support had been continued, the country could have become safe and stable again in a short time. However, after a while, Western countries directed their support to the terrorist organizations in this country instead of the Syrian people. Trucks of weapons, ammunition, tools and equipment were sent to the terrorist organization. We all lived together.After this strategy change, which covered the Syrian lands with blood and fire, the region turned into a swamp with serious threats for Turkey, where all kinds of terrorist organizations, the product of the project, swarmed.The operation, which continued with the Euphrates Shield, Olive Branch and Peace Spring operations, This is the primary reason for our operations."
Stating that in addition to opposing the regime's atrocities in Syria, Turkey carries out and continues to carry out the most effective fight against all terrorist organizations from the PKK to DAESH, Erdogan said that thanks to the operations, both the borders of Turkey were made safe from attacks, and people in Syria were able to live peacefully. He noted that safe areas have been created for them to live.
Erdogan said, "We closely follow Syrian refugees and foreigners living in other statuses in our country. We have tied the living and working arrangements of all foreigners, regardless of which country they come from, to certain rules. We send those who do not comply with the rules to their places of origin immediately. The number of Syrians deported in this way has reached 20 thousand. "The number of deported citizens from other countries has exceeded 21 thousand. Similar pictures emerge in places where instability and conflicts are experienced, especially in Afghanistan." he said.
"NUMBER OF UKRAINES COMING TO OUR COUNTRY IS APPROXIMATELY TO 100 THOUSAND"
Pointing out that there is a human flow towards Turkey, just like other developed countries, from places that have suffered from backwardness, hunger and misery for years, Erdoğan said, "The number of irregular migrants who entered our borders and sent back to their countries through various means has exceeded 320 thousand since 2016." said.
Emphasizing that the goal of a significant portion of irregular migrants heading to Turkey's lands is to cross from there to Europe, Erdoğan stated that the number of refugees, mostly of Syrian and Iraqi origin, who reached the European Union countries in the last 7 years before the Ukraine crisis, was expressed as 1 million.
Expressing that especially with the start of the war, the number of people who moved from Ukraine to neighboring countries and some of them to Europe has exceeded 4 million, Erdoğan said:
"The number of Ukrainians who came to our country has approached 100 thousand. As you can see, the refugee problem is not unique to us, it is not unique to our country, it is a problem of the whole world. Despite being the state that is the most affected by this influx, we are one of the few countries that managed to manage the crisis without harming humanitarian sensitivities. Hostility towards asylum seekers. "Those who try to secure a political position through it, must first see these facts. More importantly, those who are at the forefront of this policy must never forget that their grandfathers are among those who took refuge in Anatolian lands to save their lives and dignity. We must not forget that we took refuge in desperation today, just as we welcomed their grandfathers yesterday." We act the same.
We will not repeat the shame of the Boraltan Bridge disaster that the single party CHP has brought to this beloved nation. We did not deliver the oppressed to the murderers, and we will not. Syrians or foreigners coming from other countries are not provided with any different opportunities than our own citizens, and no extra resources are allocated. Don't let the hate campaigns of seditious people based on lies, mistakes and distortions ever confuse or confuse our citizens. No one should have any doubt that the number of Syrians in our country will decrease to reasonable levels as long as the necessary opportunities for voluntary return are provided. The same approach is also valid for foreigners coming to our country from other places. We have no problems or problems with anyone who contributes to this country and lives on our lands by respecting the faith, language and culture of this nation," he said.
"WE WILL CONTINUE WITH OUR GOALS FOR 2023"
Stating that the culture of living together has dominated these lands for a thousand years during the Seljuk, Ottoman and Republican periods, and that this ancient culture will never allow a disease of racism and xenophobia to take root in Turkey like in the West, Erdoğan said that those who want to confuse Turkey over such a distortion He stated that it was too obvious to need explanation who was carrying water to his mill.
President Erdoğan said, "We will continue on our way without deviating from our 2023 goals and our 2053 vision. In parallel with the easing of the fluctuations in the global economy, we will continue to remove the issues of high inflation and cost of living from our country's agenda." said.