News
Again IETT bus, once again disaster was returned
In the collapsed public transportation system in Istanbul, the safety of life and property of citizens was also at risk.
A new one has been added to the scandals experienced in IETT buses, which come to the agenda with malfunctions and accidents every day due to lack of care. The tire of the IETT bus in Beykoz Kavacık came off. Due to the blown tire, both cars got out of control and crashed.
The fact that Istanbul Metropolitan Municipality (IMM) Mayor Ekrem İmamoğlu and his team did not take any measures despite the big scandals that occur every day in public transportation vehicles draws a great reaction from the drivers and the public.
The incident, which returned from the disaster, took place yesterday at noon. The tire of the IETT bus, which was traveling in the direction of Beykoz from Kavacık, came out on the New Riva Road and flew.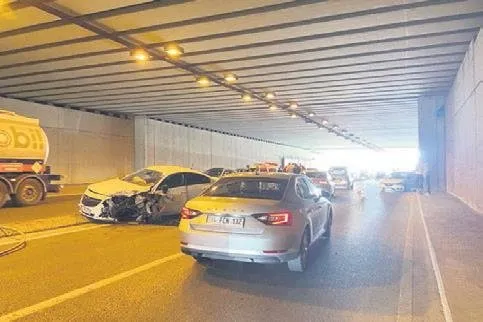 'OUR LIFE IS IN DANGER'
The bus, whose left rear side fell on the asphalt, could hardly stop. The two cars coming from behind, on the other hand, were trying to escape from the tire that was heading towards them at great speed, and crashed out of control. Fortunately, there was no loss of life or injury, and the cars were heavily damaged. Police and paramedics were dispatched to the scene. While the vehicles involved in the accident were removed from the area with the help of tow trucks, the traffic flow was controlled for a while with the guidance of the security teams.
After the accident, IMM Assembly Environment, Renewable Energy and Climate Change Commission Chairman Sadullah Hasanoğlu stated that the unmanagement of Istanbul poses a life safety hazard for Istanbulites. Hasanoğlu, in his statement, said, "The tire of the bus explodes, two cars hit the median. The inability to manage the IMM and its affiliated institutions has turned into a life safety issue for the people of Istanbul."