News
"Spare room for a mother and a child": the Germans turn to the Ukrainian refugees | International
Cora Mohr pushes her 11-month-old baby's stroller as she strolls through Berlin's central station, showing the poster she has improvised at home with a black marker: "A free room for a mother and a child." All around her, dozens of volunteers help connect hosts like her with newly arrived Ukrainian refugees who need a place to stay. Mohr, a 27-year-old marketing employee, hopes to quickly find the two people she thinks fit comfortably in the tiny baby room, which she and her boyfriend have refurbished with a newly purchased mattress at Wallapop. In an emergency, she could take in someone else, she says: "I don't have a lot of money to donate, but I wanted to help in some way. It is very sad to see the suffering of Ukrainian families."
What started as a trickle has turned over the days into a steady stream of train arrivals packed with women and children fleeing war in Ukraine. Necessity has transformed this Berlin station into a makeshift welcome center, where an army of volunteers helps new arrivals with anything they might need. There are translators, hot food and drinks are served, warm clothes, shoes, diapers and SIM cards are distributed so that they can communicate with their families. More than 80,000 people have already arrived in Germany, but this figure is approximate and surely underestimated, because there are no border controls at the internal borders of the EU.
Next to the place where Berliners, and other Germans from distant cities like Aachen, offer their homes, a small kindergarten has been set up where children amuse themselves with toys. The reception center occupies practically an entire floor of the station. Franzi, a 16-year-old volunteer, a high school student, is in charge of collecting the donations, which do not stop arriving. "Many come, ask what we need and come back after a while with full bags. It's amazing how people are responding." It is the fourth day in a row for her at the station. She saw what was happening on television and she couldn't stay home, she recounts.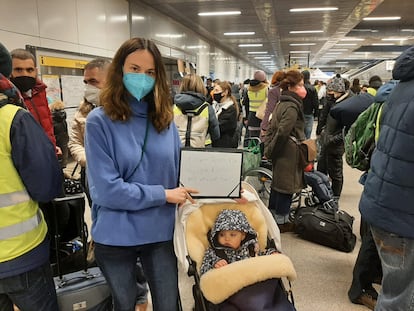 Join EL PAÍS to follow all the news and read without limits.
subscribe
The scene, says a volunteer who lived through it, is reminiscent of 2015, when more than a million people arrived in Europe fleeing the war in Syria, especially Germany, which welcomed the majority of refugees. The NGOs claim to be better prepared now, although this time a lot of help is being channeled through informal channels, on social networks, in messaging groups such as Telegram, in parishes and stores.
The city's public infrastructures are becoming overloaded, so Berlin Central Station has also become a distribution point. Refugees who arrive by train from the Polish capital, Warsaw, and who do not have a clear destination, are offered trains or buses to continue their journey to other federal states. Many continue on to other EU countries or to other German cities where family or friends are waiting for them. The public railway company, Deutsche Bahn, gives out free tickets.
Foreign students
But others have nowhere to go. Waleed, a 22-year-old Pakistani man, waits at the station with his wife and a friend of his for someone to offer them a place to sleep. The three were studying in Kiev and left with little more than clothes. They arrive after three days of travel, without sleeping, and recounting how they were discriminated against at the border for not being Ukrainian citizens. "They left us at the end of the queues and we almost didn't get on the bus," says this aeronautical engineering student.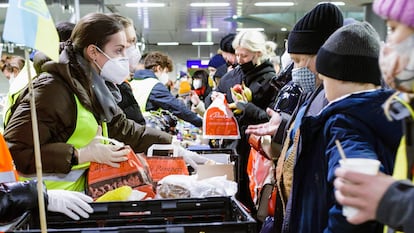 "We came to Europe to build a future for ourselves and we find ourselves as war refugees with a very dark future." Now that the air raid sirens and bombings are behind them, their biggest concern is finishing the race. They will try it in Berlin, he assures, although he fears that his nationality—his wife, whom he met in Kiev, is Tunisian; her friend, an Iranian, makes their stay difficult. German Interior Minister Nancy Faeser assured on Sunday that the country will take in all refugees from the invasion of Ukraine, regardless of their nationality.
Host a family of six
Svitlana Savkevych, a 42-year-old librarian, arrived in Berlin a few days ago with her sister, Tatiana, and their teenage children. In the city of Avdíivka, in eastern Ukraine, they have left her mother, who did not want to leave her house, and her husbands who cannot leave her house. "It was a very difficult decision," she says. When the invasion began, they spent several nights in her mother's basement, warmer than their own, until they were convinced that it was better to flee. At first they were hesitant: they have lived for years a few kilometers from the front lines of the Donbas war and had almost gotten used to living together on the verge of an armed conflict. The first leg of the journey consisted of 36 suffocating hours in a crowded, window-closed train car that kept coming to a stop. "At night you could hear shots," she recalls.
In Lviv, in the west of the country, they slept in a gym and, once they crossed the border with Poland by bus, they spent the night in a parish. There they were picked up by a friend who took them in a van to Berlin. In total it took five days. "We will return as soon as possible," Svitlana assures with conviction in the living room of Elena Jerzdeva, who has welcomed the six refugees in her house in the Berlin neighborhood of Hansaviertel for an indefinite period. Jerzdeva, a Belarusian journalist who has been living in Germany for almost 20 years, is now trying to get computers so that the four teenagers can follow their classes, and has already found a German teacher for them.
spontaneous help
As is happening with many solidarity initiatives in Germany, Telegram and Whatsapp groups or web pages created specifically to support refugees have become the best meeting point. So Oleksii Burlachenko and Thomas Wehner agreed to drive almost 1,000 kilometers from Berlin together to the Polish-Ukrainian border. They stayed in a parish in Friedenau, southwest of Berlin, where the Ukrainian community has spent days collecting food, clothing, medicine, even mattresses. Burlachenko, a 29-year-old Ukrainian living in the German city, was going to meet his mother, his sister and his niece, who were fleeing from Kiev. Wehner, an employee of a consultancy, offered to accompany him and drive a borrowed van loaded with medical supplies (surgical gowns, injections, disinfectant) with which to later bring anyone who needed it back to Berlin.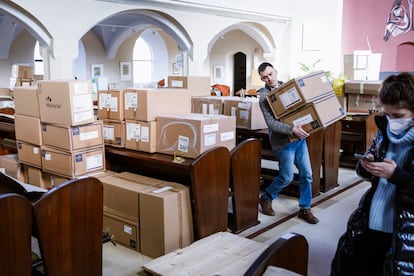 "I called my boss last night and asked for permission to travel to the border. He didn't give me any trouble," Wehner recounted before leaving. The trip was organized in less than a day and the loading of the vehicles in just over an hour. While several volunteers carried boxes, donations continued to arrive at the church, which was ceded during the month of March by the evangelical community to the Ukrainian Orthodox Church to centralize aid to refugees. "We have brought food and diapers. Where do we leave it?", asked two retirees at the entrance of the temple, loaded with supermarket bags. "Are you leaving for the border?" asked an older man, reaching for his wallet. He took out 30 euros and simply gave it to Burlachenko. "Here, for gasoline. Good luck".
Follow all the international information in Facebook and Twitteror in our weekly newsletter.