News
Vandalism harasses Russian communities in Canada after the start of the war in Ukraine | International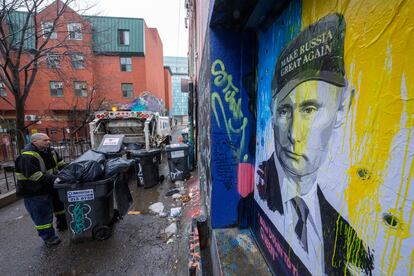 Canada is once again the scene of vandalism in religious temples. In recent days, a Russian community center and two Orthodox churches have been sprayed with paint. Police forces are investigating whether these crimes, committed during Russia's military offensive against Ukraine, can be considered acts of hate.
On February 26, the entrance of the All Saints Orthodox Church, located in Calgary (province of Alberta) was sprayed with red paint. This temple is frequented by both Russians and Ukrainians. Security cameras filmed the person who committed the act of vandalism. However, she has not yet been identified and the police request the support of the population. According to a police statement, "the individual is about 1.70 meters tall, is of medium build and was wearing a mask, pants, coat and black shoes."
A second Orthodox church was smeared with red paint in the early hours of Friday. It is the temple of Santa Sofía, located in Victoria (province of British Columbia) and whose door received the pigment. The police follow several leads. Victoria suspended her relations with Khabarovsk, her sister city in Russia, in protest after Moscow's decision to invade Ukrainian soil.
.@VancouverPD is investigating vandalism at the Russian Community Center in Kitsilano #Vancouver . The Center says close to 80% of its members are Ukrainian. Families who showed up for classes this morning expressing their shock, sadness and concern for their kids' safety. pic.twitter.com/SMILioCNQf

— Janella Hamilton (@JanellaCBC) March 5, 2022
This Saturday, the Russian Community Center, located in Vancouver (British Columbia), was sprayed with blue and yellow paint, colors of the Ukrainian flag. Police investigations continue. Natasha Kovalchuk, a member of the board of directors, told the portal GlobalNews that this campus offers services to individuals of many nationalities. "Even if it were a purely Russian institution, attacking it for the actions of the Russian government is a mistake," he noted. "I know there are a lot of people who are angry and want to vent that anger on someone, but we are all people here," added Kovalchuk, who has family in Ukraine.
The Ukrainian-Canadian Congress spoke out against these events, condemning acts of vandalism, violence and harassment towards any community. He urged Canadians to report them and asked police corporations to thoroughly investigate them. The Ukrainian-Canadian community does not equate Putin and his totalitarian regime with the Russian people. "Furthermore, we are deeply grateful to those who bravely denounce Putin's atrocities and stand in solidarity with the people of Ukraine," he added.
Join EL PAÍS to follow all the news and read without limits.
subscribe
According to the last census, about 1.4 million people identified themselves as Canadians of Ukrainian origin. Just over 600,000 said they had Russian roots. In the United States, several establishments selling products from Russia have recently been vandalized or threatened. This Sunday, the gate of the Russian House of Science and Culture, located in Paris, received a Molotov cocktail.
Subscribe here to newsletter of EL PAÍS America and receive all the informative keys of the current affairs of the region